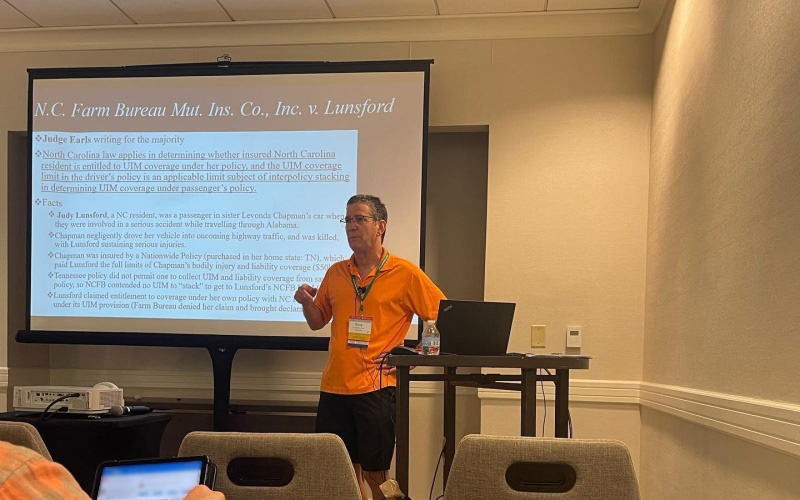 2021–2022 NC Insurance Law Updates
Attorney Doug Maynard has presented the North Carolina insurance law update at the North Carolina Advocates for Justice (NCAJ) convention every year since 2008. This summer, he presented the 2021–2022 updates during a continuing legal education session at the summer convention in Charlotte, NC.
Download the 2021–2022 Updates
NCAJ Special Award
This year, Doug was also awarded the NCAJ Special Award for outstanding leadership and assistance in special circumstances for his work as the NCAJ's attorney  to prevent the non-profit Blue Cross Blue Shield of North Carolina (BCBS) from adding a reimbursement provision to its health insurance contracts. 
The North Carolina Department of Insurance (NCDOI) prohibits subrogation and reimbursement provisions in health insurance plans governed by North Carolina law. These are typically insurance plans purchased by individuals and small businesses. If an individual is hurt in an accident, and the BCBS health insurance they paid for pays medical bills, BCBS wants the injured person to give all the money back to BCBS from any settlement.
BCBS claims it will reduce premiums by 0.2%. If a consumer pays $5,000 a year for health insurance, they would save $10. However, BCBS has been unable to document any savings for policyholders. The NCDOI rejected BCBS's proposed language, and BCBS essentially sued the NCDOI by filing a petition. Doug filed a motion to intervene on behalf of the NCAJ as amicus or a "friend of the court."
The administrative law judge granted the NCAJ's motion to intervene, agreeing that the "expertise of its members gained from advocating for injured persons in North Carolina would aid the Tribunal by identifying and explaining issues which will arise during the proceedings in this case." 
Doug considers it an honor to be the NCAJ's attorney in this fight. In accepting the NCAJ Special Award for outstanding leadership and assistance in special circumstances, Doug said, "The NCAJ speaks for those who cannot speak for themselves and protects those who cannot protect themselves." 
About the NCAJ
The North Carolina Advocates for Justice is a nonprofit organization with a mission to support and further the rights of plaintiffs' attorneys and criminal defense attorneys and their clients. The association is comprised of over 2,500 North Carolina licensed attorneys, law students, legal educators, legal assistants, and retired attorneys — making it the third largest trial lawyers association in the country. Among other things, NCAJ members file amicus briefs, serve on the NC State Bar Ethics Committee, and provide continuing education.