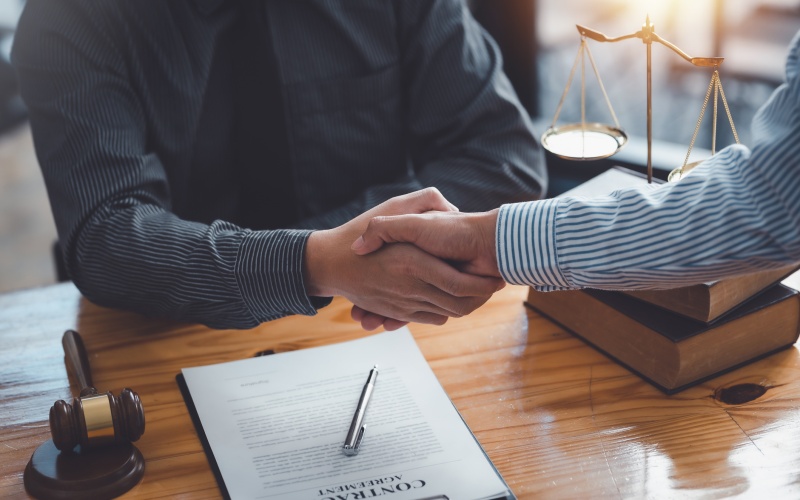 Image is stock photo
If you've been injured due to someone else's negligence, finding the right personal injury lawyer to represent you is crucial. However, with the proliferation of personal injury lawyers using questionable tactics to solicit clients, it's important to know how to evaluate a personal injury lawyer and find one that will truly be beneficial for your case. Here's what to look for in a personal injury lawyer and how to avoid falling victim to unethical practices.
Beware of Personal Injury Lawyers Who Find You
Avoid "ambulance chasers." A warning sign when evaluating personal injury lawyers is when they reach out to you instead of you contacting them. Shun lawyers who use aggressive solicitation tactics, like cold calling, texting, or spamming. These lawyers push and sometimes cross the line as to what State Bar ethics allow. 
Some personal injury lawyers collaborate with purported "accident victim's assistance" groups that directly approach injured individuals, offering "help" on the victim's injury claim. They are connecting the persons with lawyers and doctors presumably for a fee. Some "accident victim's assistance" groups even provide contracts for hiring a personal injury lawyer. Essentially, they are impermissibly acting as "runners" for the attorneys – directly soliciting clients on behalf of the attorneys. 
These tactics violate State Bar ethics rules on attorney solicitation. Reputable firms do not engage in such practices. It's important to be cautious when approached by these groups, as they do not have your best interests in mind. They work with personal injury lawyers who prioritize financial gain over ethics and likely your well-being. These groups may repeatedly call you and pressure you into signing contracts or to see certain doctors in their "network."
Remember, you have the right to choose your own legal representation and medical providers. Don't be swayed by high-pressure tactics from these groups or personal injury lawyers who are willing to work with them. Instead of hiring them, you should report the attorneys who engage in direct solicitation to the State Bar. (Katherine Jean: kjean@ncbar.gov; 919-828-4620)
Research and Evaluate Personal Injury Lawyers Thoroughly
Selecting the right personal injury lawyer can be a daunting task. It's crucial to ensure that you have the best legal representation for your case. With so many options available, it's important to do your due diligence when researching and evaluating potential personal injury lawyers. 
Look for lawyers who concentrate in personal injury law and have extensive experience in handling cases similar to yours. Check their credentials, education, and professional memberships to ensure they are qualified to handle your case. 
Trusted Sources for Credible Personal Injury Lawyers
Finding the right personal injury lawyer for your claim requires careful consideration of their expertise, experience, past success, professional organization memberships, reputation, and recognition. Take the time to research and interview potential attorneys to ensure that you hire a personal injury lawyer who will effectively represent your interests and help you obtain the compensation you deserve for your injuries. Some of the most respected resources in the industry include:
If You Need Help, We're Just a Message Away
Call (336) 777-1411 or fill out the form below