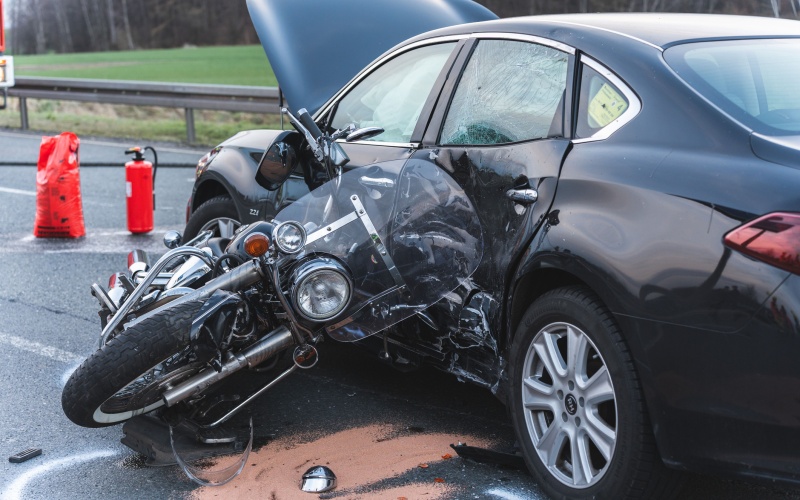 *stock photo depicts a motorcycle accident
A 69-year-old man with a blood alcohol level four times the legal limit, drives a Ford Fusion SUV through a red light and crashes into a retired Delaware State Trooper's motorcycle, slamming into the left side of his body. At 72 years old, the retired Trooper is in North Carolina sightseeing on the Blue Ridge Parkway. He and his companion stop in Asheville for the night.
He is headed home from dinner on his motorcycle when the crash occurs, seriously injuring his leg and hip, altering his hopes for a peaceful retirement.
Just an hour earlier, the drunk driver had crashed into the side of the Holiday Inn off Tunnel Road and fled the scene with his bumper dragging.
The victim requires immediate medical attention due to the extensive injuries. Doctors perform surgery, inserting a cephalomedullary/intermediary nail to repair his hip fracture. He remains hospitalized for four days before being transferred to a rehabilitation facility for 11 more days. Despite these efforts, the road to recovery is far from over when he finally returns home to Delaware.
During his recovery, he unfortunately slips and falls as he descends the last step at his home, leading to another hospitalization and long stay in a rehabilitation facility. His doctor discovers what appears to be a new fracture to the mid-shaft of the femur related to the motorcycle accident.
The motorcycle crash significantly impacts the retired Trooper's lifestyle. He walks with a permanent limp and struggles going up and down stairs. He has to give up his once favored hobby of motorcycle riding and now can only play nine holes of golf, a far cry from the eighteen he regularly played before the crash.
We are proud to secure a $544,872.50 settlement on behalf of the deserving client. No amount of money will restore him to his prior lifestyle but it's at least some acknowledgment of the substantial injuries he suffered and continues to endure. $505,000.00 of the settlement is for his personal injuries which included money from his underinsured motorist carriers. Due to the potential for punitive damages and an excess verdict the insurer for the drunk driver paid $39,872.50 above the money it paid for his motorcycle exhausting the property damage limits in addition to its bodily injury liability limits.
Disclaimer: The information provided in this blog post is based on a specific legal case and its outcome. Results may vary in different cases, and the settlement amount mentioned should not be considered indicative of the potential outcome of any other legal matter. Each case is unique, and the circumstances and damages involved may significantly impact the final settlement.
Need a Personal Injury Lawyer?
Doug provides many services to individuals who have been injured due to someone else's negligence or wrongdoing. He helps navigate the legal system, gathers evidence to support the claim, negotiates with insurance companies, and represents the individual in court. Doug has a deep understanding of personal injury law and is knowledgeable about the value of different types of claims, which can result in a higher settlement or award. A personal injury lawyer can relieve the injured person of the burden of navigating the legal process, allowing them to focus on their recovery. Call Doug to increase your chances of a fair and just outcome.
Discover if You'd Benefit from Legal Representation for Your Personal Injury Case. Call (336) 777-1411 Today.